Team Kiss & St Jude! Donate Now!

St. Jude Heroes
CONTACT KF Katheryn Foxx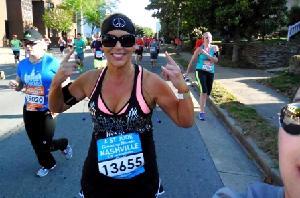 965 Kiss Country
FUNDS RAISED FOR ST. JUDE$9,475
OUR TEAM'S PROGRESS
94%
$10,000
OUR EVENTSt. Jude Rock 'n' Roll Nashville Marathon & 1/2 Marathon
965 Kiss Country's Katheryn Foxx has been fundraising for the past 4 years to find a cure for childhood cancer with St Jude!. Our team 965 Kiss Country wants to do more than run. We want to help run St. Jude Children's Research Hospital. We're fundraising while we train for our race so we can make a difference in the lives of kids with cancer and other life-threatening diseases.We love to have you help out! Join the team, go to Nashville, attend our fundraising events or you can even be a cheerleader on the sidelines!
Families never receive a bill from St. Jude for treatment, travel, housing or food — because all a family should worry about it helping their child live.
Click on Brantley Gilbert to make a donation to TEAM KISS for St JUDE!

Katheryn Foxx loves country music. She started violin in grade school and taught herself how to fiddle. After graduating with a BA in Communications and Business at the University of Wisconsin Green Bay and working at several radio stations in Wisconsin, Katheryn relocated to Iowa and made it her home. Katheryn is very connected to the community and works with many charities. Katheryn's favorites are St Jude Children's Research Hospital and the kids with cancer and helping Veterans and local charities. Kat got to twin fiddlle with Charlie Daniels and play in concert with Lonestar and JoDee Messina. Katheryn has won several Addy Awards and was nominated as Medium Market Personality of the Year.Off the air, Katheryn enjoys family and friends, dancing, country concerts, reading, the Green Bay Packers and teaching private violin lessons and fiddlin' with local bands.